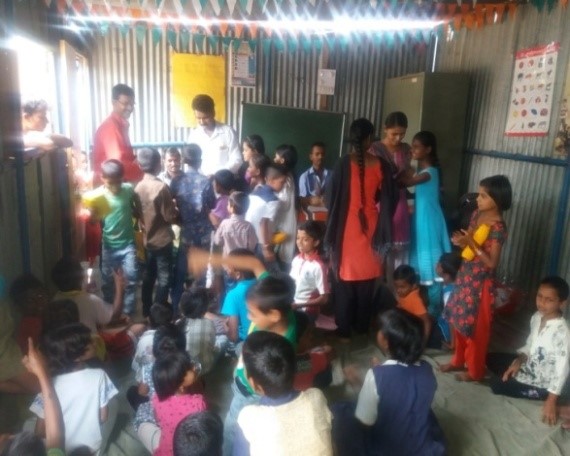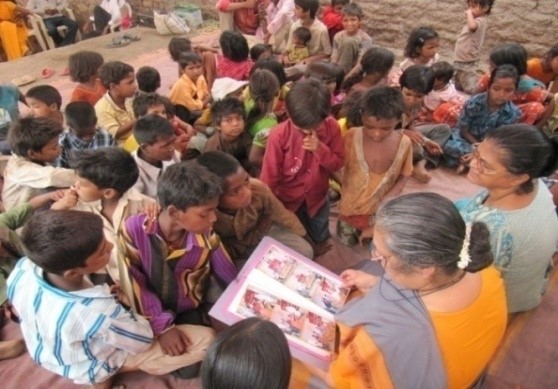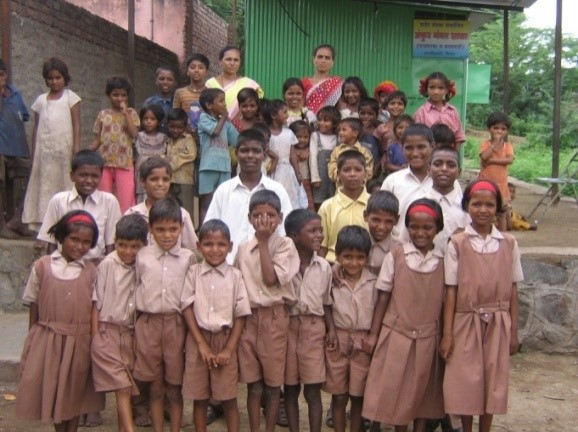 GAMMAT SHALA - Play school ( Bringing the school at Child's Doorstep
This project was started especially for the children of ParadhiWasti whose parents are away at work and they are left on their own during the day. Although these children live with the parents they have never been to school. The children come to the Gammat Shalas of different centers of Maher in summer vacation, they take shelter here, education and participate in activities. They are taught basics of personal cleanliness and grooming, general cleanliness of the environment around, other learning-based activities and games which makes them sociable and outgoing. They also begin to take interest in attending regular school. At present more than 80 children are attending the 2 GammatShalas of Maher.
1. Daycare Center for Slum Children, Pernephata
This centre is located in the Pernephata slum area just outside of Pune. The project works with children of 1-8 yrs of age who are living in the slums. Education is distant dream for these children as alcoholism, drug addiction, physical and verbal abuse is very common in these communities, as the adult population itself lacks basic education. Most of the time the parents are away doing odd jobs such as rag picking, bag collecting etc, for the whole day, sometimes even long hours into the night and so the children are left unsupervised and unattended. As the program continued growing over the coming months, the number of children attending Day Care centers also increased and it became evident that something more had to done for them. Thus, GammatShalas came into existence.
2. GammatShala Project: PardhiWasti Community, Shirur
The GammatShala Project begun mainly to cater to the basic needs of the children of the PardhiWasti community here in Shirur as there is no water, no electricity nor personal hygiene practices, basic knowledge of health or nutrition due to lack of even basic education among the adult population. It is a common sight to see 7-12 children in each of these households. As the parents had to work long hours into the day and night, these children were left uncared. So Maher had to take immediate action to start a center where they will be first groomed, fed, clothed and taught essential life and social skills through learning-based fun activities and games. Maher ensured that these children attended its 2 centers, especially during summer vacation. After 2 years a tremendous change has been noticed. The children now are confident and eager to attend regular schools and there is also a change in the outlook of the PardhiWasti community in Shirur towards education and better living conditions.