Dear Friends,
the Christmas celebrations began early with the sugar cane workers and their families attending an entertainment programme on 20 December. The men and women all received a blanket as a gift whereas the children got a small toy or tiffin tin depending on their age. They then partook of a nutritious meal cooked by the Maher housemothers.
The following 4 days were taken up within Sports Camp with numerous activities from 9am until 10pm each day. The yellow team lead by Vijay Tamang were the champions with the green team (lead by Shrivats Tamang) winning the Discipline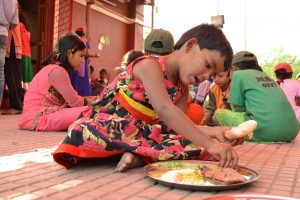 Trophy.
On Christmas Eve baby Jesus was taken to the crib by the crime police inspector, ATS Arvind Gokile, He was accompanied by a procession of Maher children with candles and 'Angels, (girls in white dresses). The Christmas mass was celebrated by Fr. Bhausaheb Sansare SJ, in the main hall at Vadhu. A nativity tableau written by Sister Cassandra was performed by the women and children from Vatsalyadham during the mass. Asha carried baby Swara, aged 3 months, to represent baby Jesus. Afterwards there was a milky drink and some cake and a chance to wish everyone a happy Christmas. There was also some Bollywood music and the opportunity for some energetic dancing!
On Christmas Day all women, children and volunteers from the Pune travelled to Vatsalyadham. Fujitsu Consulting India company had generously supplied some buses to aid the transportation and these left Vadhu fully laden at 9am.  At Vatsalydham gate Santa Claus received them with cakes and a Red Santa Cap.
The day was graced by Jetsumna Tensing Palmo and two Buddhist nuns. It was also attended by girl guides from Sangam, volunteers from USA, UK, Germany and Austria as well as lots of well wishers from Pune and ex Maher women and children. Mrs. Samikhsha Gokule – Dy. Collector of Pune – Land Acquisition No. 6, Mr. Arvind Gokule –  PU, ATS, Pune,  Mrs. Rekha Shiwale – Sarpanch Vadu Bk, Mrs . Nirmala Argade – Member Vadu grampanchayat, Mr. Santosh Shiwale – Ex Dy. Sarpanch Vadu and  Mr. Shahebrao Bhandare – President Shambhuraje Shikshan Prasarak Mandal, Shardchandraji Pawar Vidyalya Vadu.
The Vatsalyadham crib was entitled 'A Celebration of Togetherness ' and incorporated a church, Hindu Temple and Muslim mosque – all creeds celebrating Christmas in unity.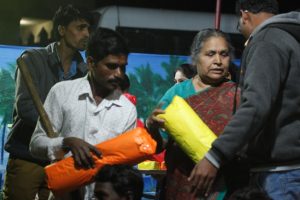 In the morning the first marriage of a Maher boy to be married by Maher was held. This was Zumbar's son, Sagar and a girl from Pune, Shruti. The ceremony was beautifully officiated by the Hindu priest Madhusudhan.
In the morning Pani Puri and Bhel were available as well snacks. The chicken lunch & dinner was sponsored by – Mr. Murli and Mrs. Shahnaz Nair from Mumbai. Mrs. Glancy from United Kingdom sponsored the dinner on 24th December.
In the afternoon the presents were distributed house by house. Presents had been gathered together throughout the year from donations from various companies and well wishers. All had been beautifully wrapped in colorful paper by Maher volunteers (Bernie Aunty, Leonie, Alex, Catherine, Erica, Mikaela & Caleb, and Diane).
At the end of the day everyone could have a lovely tub of ice cream and a packet of homemade sweets before getting into the bus.