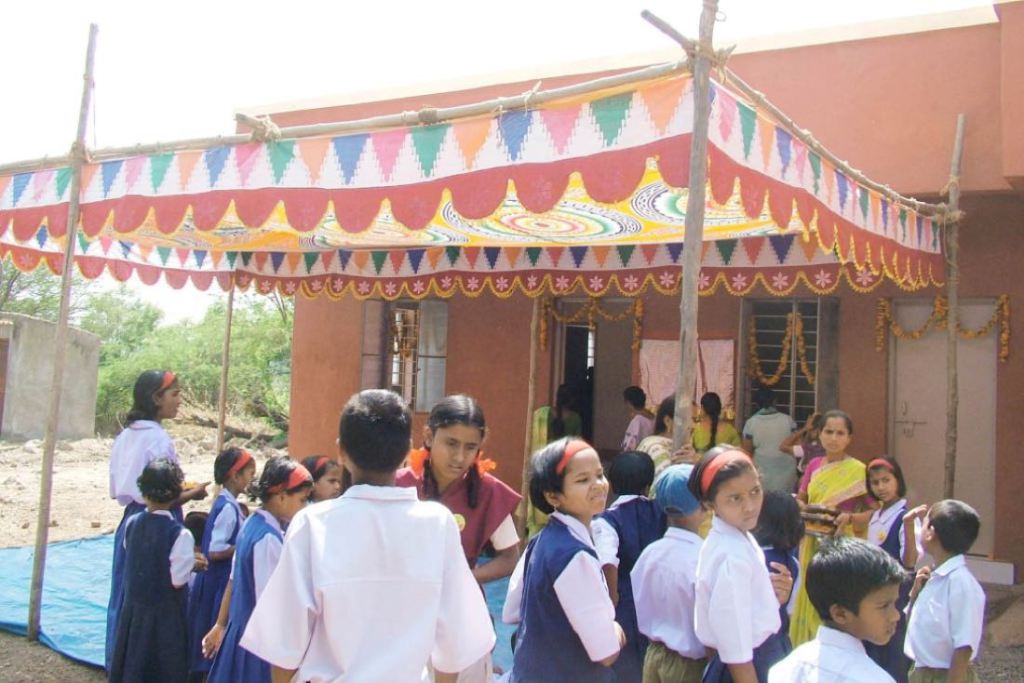 A new version of Kripa (2007)
With the financial help of the Internation School Vienna, Maher was able to build a new home for the children. The land itself was donated by a village resident earlier. The new building was declared open by Ms. Supriya Sule, MP, who has been a long time sympathiser of Maher's work.
Apti
Service and social activism: mobilisation of women through SHGs (1999)
During the early years, Maher's social workers decided to cross the geographical limits of Maher and began mobilising women in the surrounding villages of Vadhu Budruk. The founded Self Help Groups (SHGs), which is today the most accepted way of empowering the marginalised women. The first meeting was held on April 19, 1999 in the Apti village, just 3km from Vadhu. Since then, the number of SHGs formed at the initiative of Maher has rapidly grown, totalling more than 300 as of today. This has twin implications. It showed that while Sister Lucy visualised Vadhu as the central hub of Maher activities, she allowed the outreach activities to be an integral part of Maher's work right since the early years. Secondly and more importantly, it also showed that while Sister Lucy was motivated by a desire to serve, she didn't want to play down the significance of social activism and general empowerment of women through the encouragement of community funded micro loans. In other words, in Maher, social service and social activism went hand in hand – which is just the way, Mahatma Gandhi preached.
Birth of Kripa (2001)
Because of the increasing for care of homeless children, Maher's social workers were looking for another house – and came in contact with a generous mother, Mrs. Parubai Kaluram Dhage. She lived in the village Apti and had a home large enough to accommodate twenty children. The house needed some repairs and had no toilets nor a bathroom. Maher made improvements to the property and built this facilities and started renting it. The the home could be opened in June 2001. The inauguration was simple and mostly village people attended it. Since Maher had established the SHGs earlier, it was well known and the villagers showed their thankfulness and brought tea and sweets.